Neuvo MP3 Player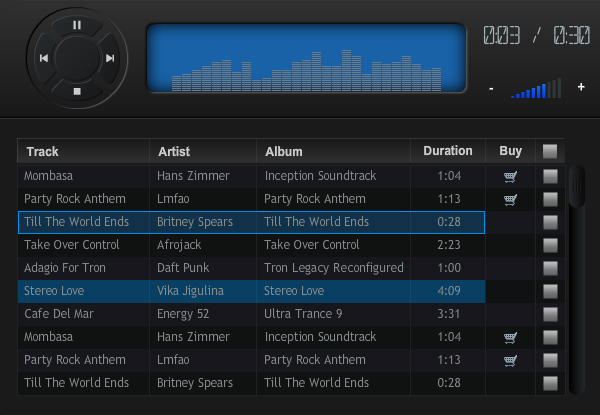 User ratings for Neuvo MP3 Player.
7 sales,

17560 views
Description
Flash version: 9, ActionScript 3.0.
The Neuvo MP3-Player was designed to be easily intergrated into your flash projects, or simply embedded into your html page. It has a fully intereactive playlist with five xml files to help you skin your player.

Features:

1) multiple select playlist, this allows the user to create their own playlist by selecting only the songs they want to listen to.

2) If all or some of the items have been selected, tracks will automatically skip to next song on completion

3) Add to cart feature which gives the user the option to buy the song online.

4) XML Settings: autostart, looping, start volume, volume bar color, playlist font color, cell hover color, odd row color, even row color, active cell color, volume display text color, equalizer bar color, equalizer background color

controls: next, previous, play, pause, stop.
Keywords: MP3 PLAYER AS3 Selectable Playlist Graphic Equalizer Scrollbar Cart
Comments
You need to
LOGIN
to post a comment.
This file has no comments