Multimedia 3d wall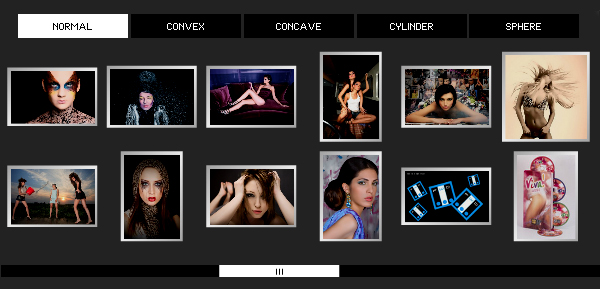 User ratings for Multimedia 3d wall.
2 sales,

12761 views
Description
Flash version: 10, ActionScript 3.0.
This is a very cool multimedia 3D gallery which comes in many different shapes like a convex or concave wall, a cylinder and even a sphere shape.
It can have any number of images and you can customize their number on the horizontal and vertical.
On a thumb click, it will enlarge, you can see the bigger picture, the animation of a swf, listen to a mp3 sound, or play a video and you can also flip it to see a text with description and html links on the other side.

Features:
* XML driven
* the entire theme color can be changed inside the XML file
* supports all image files (png, jpg, gif etc), mp3 sounds, SWF files and also video files
* set the thumb size
* set the space between the thumbs
* set the background color
* set the image description text color and size
* set the scrollbar colors
* FlashVar support with dynamic XML path name
* Source code provided and highly commented
* Advanced AS 3.0 coding and math
* The performance of this product is so good that you can have multiple instances
in the same page of your project or website
* OOP code
Many other cool features!
Keywords: multimedia 3d wall sphere convex concave video flv flash