Acordion Portfolio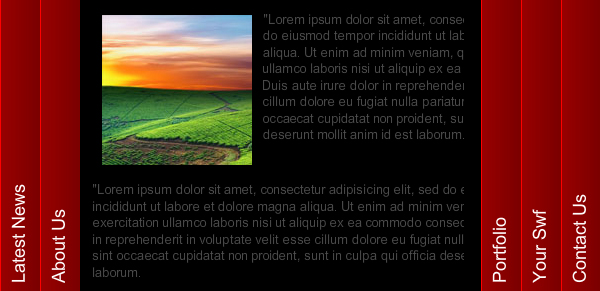 User ratings for Acordion Portfolio.
3 sales,

15093 views
Description
Flash version: 9, ActionScript 3.0.
The Accordion Portfolio is a complete solution for professionals to display and advertise their latest work. With 170+ XML settings the accordion can be easily integrated on the main page of your website. Main feature of this accordion is the autoplay and slider effect.

Features:
- fully customizable
- colors settable form XML
- resizable
- content easy to change from XML
- animation time settable
- unlimited images and animations
- portfolio gallery (unlimited projects and images)
- contact form
- news module with detail panel
- mini mp3 player
- fullscreen
- thumb size settable
- mask and alpha customizable
- image description supports HTML
- easy to use by drag and drop in your project
- and much more...
Keywords: accordion xml image ticker flash gallery portfolio contact scroller thumb mp3 player slideshow teaser horizontal infinite smooth slick unlimited easy customizable driven resizable dynamic
Comments
You need to
LOGIN
to post a comment.
This file has no comments