Santas New Toy Game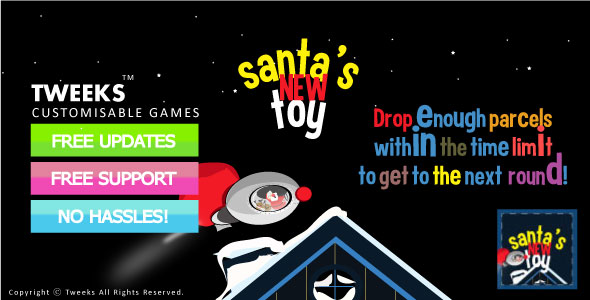 User ratings for Santas New Toy Game.
0 sales,

9445 views
Description
Flash version: 13, ActionScript 3.0.
Customisable Game by Tweeks
Please rate this file if you like using it.

Description
Santa's New Toy Game by Tweeks.
Santa's got a new sleigh and it needs testing, that's were you come in. Drop enough parcels to reach the next level. Don't be fooled by the first levels, this game gets super FaSt! You'll need all your skill for this addictive festive game.

Features
- Alter logo via Xml.
- Alter the Sound effects via Xml.

Support
Contact us any time, through the email box on our profile page.

Updates Roadmap
There are no updates scheduled for this file yet, because we haven't recieved any requests. Get requesting people!
If you have a feature you'd like to see included in the next update use the comments box or send us an email and we'll do our best to include them.
Keywords: addictive christmas customisable flying fun game kids rudolph santa claus shooting sim snow space ship