XML Products Banner Rotator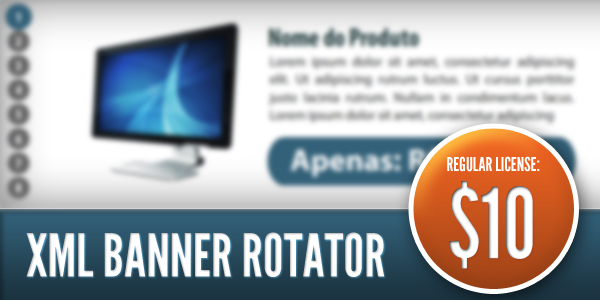 User ratings for XML Products Banner Rotator.
3 sales,

6052 views
Description
Flash version: 11, ActionScript 3.0.
XML Banner Rotator totally customizable.
In XML you can change:
- Product Name
- Product Description
- Product Pricing
- Product Image
- Link product
- Color of title
- Color description
- Background Color
- Color of the button of the page
- Speed ​​display
- Resizable

UNLIMITED NUMBER OF PRODUCTS

----------------
Banner rotativo totalmente customizável com XML.
No XML você pode alterar:
- Nome do produto
- Descrição do produto
- Preço do produto
- Imagem do produto
- Link do produto
- Cor do titulo
- Cor da descrição
- Cor do fundo
- Cor do botão da pagina
- Velocidade de apresentação
- Redimensionavel

QUANTIDADE DE PRODUTOS ILIMITADA
Keywords: banner rotator xml actionscript 3 customizable color unlimited products viewer
Comments
You need to
LOGIN
to post a comment.
This file has no comments