PHP IP Address Blocking Script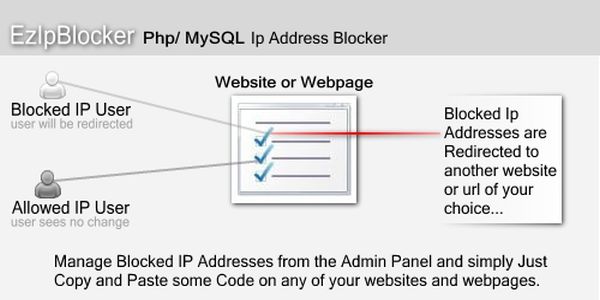 User ratings for PHP IP Address Blocking Script.
4 sales,

6786 views
Description
Use this Script to Block any IP Address from visiting any of your Websites and Webpages even on External Sites like Blogger, Wordpress, Tumblr and more.

Includes an Administration Area so that you can Add, Edit and Delete IP Addresses to be Blocked. This Script will provide you with a simple piece of code which you can Copy and Paste into any of your Websites and Webpages to block and redirect the unwanted Visitors to the website url of your choice.

Allows you to Block ips from many webpage types, you can use this script to protect Html, XHtml, PHP, Asp, Aspx or any page that excepts Javascript Code.

Hosting Requirements:

PHP 4 or above (Built using PHP 5)
MySQL 3.1 or above

Comes with Simple Install Instructions and a Simple Script Installer File to Help you Quickly Install the Script.
Comments
You need to
LOGIN
to post a comment.

EasySites

9 years ago
Ok i have adding some new functions so that it now works on IP Address Ranges from the last dotted decimal notation. I've tested everything and it seems to work as expected, Please let me know if it's not what you had it mind... I hope you like it.

EasySites

9 years ago
Hi TinyBird,

That's a Good Idea, I will take a look and see if i can come up with adding that function to the script... It might take a couple days since i am really busy and it will need some testing before launching but i am sure i will come up with something for that, I will update you on that once i am finished.

TinyBird

9 years ago
Seems to be just what I need. Is there an ability to block a range of IP addresses?