Blades XML Banner Rotator Component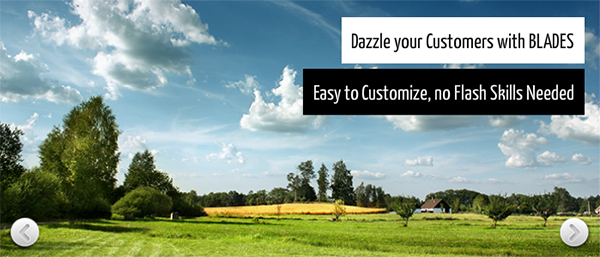 User ratings for Blades XML Banner Rotator Component.
3 sales,

8319 views
Description
Flash version: 10, ActionScript 3.0.
BLADES - An XML Banner Rotator

Thanks for checking out "BLADES - An XML Banner Rotator", the perfect way to capture your visitors attention.

XML Options Include

*Use as many text fields per slide as you want*
Set the width and height
Set the number of columns and rows for the squares
Set the spacing for the "break apart" effect
Choose to use autoPlay
Set the autoPlay delay
3 Preset animations to choose from
Choose to cycle the transitions or set each transition per slide
Choose to use the navigation buttons
Navigation buttons are loaded png graphics for both normal and hover states
Hyperlink any slide
Align each text field left or right
Position each text field with x and y values
Set the color of the text
Set the text size (background resizes automatically)
Set the text background color
Set the text background transparency
HTML formatted text to support hyperlinks

Special character support: ¿ÀÁÂÃÄÅÆÇÈÉÊËÌÎÏÐÑÒÓÔÕÖØÙÚÛÜÝÞßàáâãäåæçèéêëìíîïðñòóôõöøùúûüýþÿ™®©

The navigation buttons used in this file are included in the download.
Comments
You need to
LOGIN
to post a comment.
This file has no comments